High Quality Traditional Shades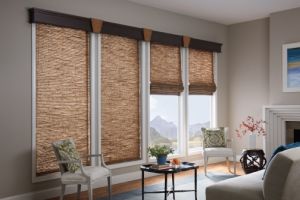 When you find yourself in search of high quality, traditional shades for your Frisco area home, you have come to the right place. Here at Blind Alley, our team of window treatment specialists have been helping homeowners just like you find and install the perfect new window treatment solutions for over twenty years, and we have no intention of slowing down anytime soon. Our team of experienced window treatment specialists will work with you directly to identify exactly what it is you are looking to achieve with your home, and make sure that you get what you need to enhance both the function and the beauty of your home. When it comes to your home's window treatment needs, we here at Blind Alley believe that you should never have to settle for anything less that the best, and when you make the call to our team of experienced professionals, you never will.
When you are looking for a timeless window treatment solution to help you enhance the comfort and the beauty of your home in one stroke, our line of traditional shades could be just the option you've been searching for. Traditional shades can be a wonderful addition to your home, helping you block out any excess light and glare that can make your home uncomfortable at certain points of the day, and help you eliminate a great deal of the heat build up that comes along with it. If you have any questions about our full line of high quality traditional shades, or if you would like to schedule an appointment for consultation with one of our specialists, give us a call today. Our team of experts are always standing by and would be more than happy to assist you in any way we can.
Traditional Shades For Every Home
If you aren't looking to spend the kind of money it would take to install new shutters or blinds for your home, shades can be a cost effective alternative to help you control the level of comfort inside your home, and give it a nice visual upgrade as well. Here at Blind Alley, we have a wide variety of options for your to choose from in terms of traditional shades, and we can even help you with all of your installation needs. Some of our more popular traditional shade options include:
Honeycomb/Cellular Shades - Due to the unique pleated design of honeycomb, or cellular shades, they are a great option when you are looking for a traditional shade option to help you improve the comfort inside your home by providing you with what is essentially an additional layer of insulation.
Roller/Solar Shades - When you are looking for a window treatment option that is going to stay out of the way and keep a low profile until you need it, roller shades or solar shades might be your answer. Instead of drawing to the sides of your windows where they will continue to hang, or bunching up near the top of your windows, these particular types of shades will withdraw into their own self-contained housing, giving you an unobstructed view outside your home when you want it, and helping to reduce glare and heat build up when you need them.
Woven Wood/Bamboo Shades - When you are looking for a window treatment solution to help you take your home's aesthetic to the next level, woven wood and bamboo shades are second to none. Woven wood shades give you that same wonderful aesthetic that you would get from natural wood blinds or shutters, but also give you a great deal of control over how much light they let into your home by choosing from the differing levels of tightness in the weave of the wood. The tighter the weave, the less light is going to filter through, letting you keep your home at the perfect level of comfort.
Roman Shades - Roman shades are an extremely popular window treatment option among homeowners all over the country, and for good reason. When you are looking for traditional shades that are versatile and can still provide you with a unique aesthetic for the inside of your home, Roman shades might be just what you've been searching for. Unlike window treatment options, Roman shades lay completely flat when they are down, and fold up out of the way when you don't need them, giving your home protection from harmful UV rays when it gets bright, and an unobstructed view outside your home when you feel like it.
If you are in need of traditional shades in the Frisco area then please call our window treatment experts at 214-289-9383 or complete our online request form.
Recent Articles
3 Reasons To Utilize Woven Wood Shades In Your Home

If you are in the market for new shades for your Frisco area home, you are no doubt pouring over all of the available options to you, and if you are like many homeowners out there, you might be getting a little overwhelmed by all of it. While there are a number of wonderful options out there, there is one that is definitely worthy of your attention if you haven't already given it some thought, and that is woven wood shades.

Read More


3 Energy Saving Benefits To Installing New Plantation Shutters On Your Home

When it comes to timeless, beautiful window treatment options, plantation shutters have been the standard for a very long time, and while there are a number of different options out there in terms of overall design and the materials used in their construction, they all share a couple of common traits that tend to separate them from all others.

Read More