3 Reasons To Utilize Woven Wood Shades In Your Home
---
---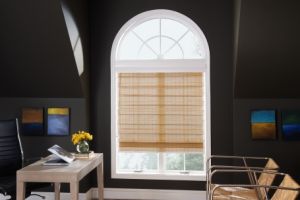 If you are in the market for new shades for your Frisco area home, you are no doubt pouring over all of the available options to you, and if you are like many homeowners out there, you might be getting a little overwhelmed by all of it. While there are a number of wonderful options out there, there is one that is definitely worthy of your attention if you haven't already given it some thought, and that is woven wood shades. Woven wood shades can be an excellent addition to your home, no matter what kind of design you have in place, or what kind of design you are trying to create, and can be used in just about any room of the house. Woven wood shades generally consist of natural woods, like bamboo, reeds, and even some grasses that all form a wonderful filter that helps you filter out the harsh UV rays of the sun, and transforms it into a pleasant ambient light that can greatly improve the comfort of any room they are in. Woven wood shades come in a wide variety of different styles, wood types, and sizes, so no matter what kind of design you are trying to match, or what kind you are trying to create, there is an option out there that is sure to fit. If you are still on the fence about whether or not woven wood shades are the right fit for your home, read on through this short list our team of professionals at Blind Alley have put together that highlight a couple of reasons why woven wood shades might just be the perfect window treatment option for your home.
Texture & Warmth
When you are looking to bring a new level of warmth and elegance to the interior of your home, there are few things that can accomplish the task quite like the look of natural wood. Woven wood shades can go with just about any kind of home decor there is out there, whether you are going for a more modern design in your home, or you favor the look of traditional shades. Whatever the case may be, woven wood shades provide you with a versatile, and adaptable choice that can be just what you need in almost any setting. Woven wood shades come in a wide variety of different colors, styles, and wood types to give you even more flexibility in terms of matching them to your home's current design, or the one that you are intending to put together.
Light & Brightness
If your home has a number of large windows throughout, you are likely more than aware of just how pleasant the abundance of natural light can be, but also how uncomfortable it can be at certain times of the day, or when the temperatures get too hot outside. Large windows can also present you with a bit of a privacy issue, but with the addition of new woven wood shades, you can have the best of both worlds. Woven wood shades will help to filter the light coming through your windows, letting you get some of that natural light that you love while filtering out most of the harmful UV rays that can fade your furnishings and heat up your home. Woven wood shades can also be a great way to enhance the privacy of your home, making it more comfortable for you and your family.
Indoor & Outdoor Utility
Woven wood shades can have a number of excellent uses around the house, and they aren't limited to the interior. Woven wood shades can really transform your home's screened in porch area, and help make the area a more comfortable and beautiful area for you and your family to enjoy. Woven wood shades are a great method of helping to filter the glare and heat out of natural light in any room of your home, whether inside or outside, and will provide you with the exquisite beauty of natural wood wherever you decide to utilize them.
If you are looking for ways to utilize woven wood shakes in your home, then please call 214-289-9383 or complete our online request form.