4 Advantages To Installing Faux Wood Blinds In Your Frisco Area Home
---
---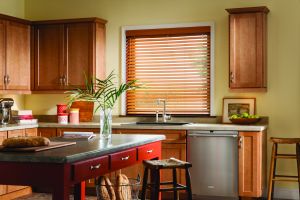 When it comes to high quality window treatment options for homes here in the Frisco area, blinds are an extremely popular choice, and among traditional blinds, faux wood blinds are easily one of the most sought after. Faux wood blinds are an extremely popular window treatment solution among homeowners all over the country, and for good reason. Faux wood blinds tend to be constructed from vinyl, or a blend of real wood and vinyl, and they can give your home that boost to its appearance and its function at the same time. To help highlight just a few of the reasons that faux wood blinds might be the perfect addition to your home, our team of professionals here at Blind Alley have taken the time to put together this short list highlighting just a few of the excellent reasons that new faux wood blinds could be one of the best investments you ever make for your home.
Cheaper Than Real Wood
One of the most common reasons that homeowners seek out faux wood blinds for their homes is due to the lower cost involved in acquiring them compared to real wood. Faux wood blinds still give you that wonderful warmth that you would get with natural wood, but they come in quite a bit cheaper, letting you decorate more windows throughout your home than you could otherwise afford to do if you were investing in real wood.
Resistant To Moisture
When it comes to real wood blinds, one of the major disadvantages associated with them is the fact that they tend to absorb moisture, leaving them susceptible to a number of different types of damage over time. Due to their construction, faux wood blinds don't have that same susceptibility, meaning that they can safely be used in rooms that are exposed to prolonged moisture or humidity without the risk of suffering damage from it. This makes faux wood blinds an excellent option in bathrooms and other rooms that have a great deal of moisture in the air, including outdoor porch areas.
Easy To Clean
While real wood blinds can be somewhat of a hassle to keep clean over time, faux wood is remarkably easy to keep looking their best, and it doesn't take much. Faux wood blinds generally require a quick rinse from time to time or for you to just wipe them off as it is needed. Since faux wood blinds are so resistant to moisture, there is no need to fear that cleaning them in this way will lead to any issues with rotting or warping over time.
Long Lasting & Durable
Because of the materials used in their construction, faux wood blinds are incredibly durable, and will usually last you a great deal longer than the natural wood counterparts. Unlike natural wood blinds, you don't have to worry about constant exposure to UV rays and the like to wear off a protective coating on your faux wood blinds that will cause them to fade over time, and as stated above, they don't suffer from exposure to moisture and humidity in the same way that natural wood blinds do. When you invest in faux wood blinds for your home, you can rest assured that your investment is something you and your family will be able to enjoy for many years to come, and it isn't going to require a great deal of maintenance from you in order to keep them that way.
If you are looking for faux wood blind installation or options in the Frisco area then please call 214-289-9383 or complete our online request form.